Zearn Math's curriculum and classroom model is designed to support struggling students. Within student materials, every Independent Digital Lesson is embedded with personalized remediation paths that allow students to stay on grade-level content while receiving precise remediation on concepts they are struggling with. Additionally, every Independent Digital Lesson starts with Number Gym to bridge K-2 math foundations. Within teacher materials, Small Group Lessons are notated with optional problems for struggling students, and Zearn Reports help teachers identify where students struggled in a particular concept as well as students' progress in each Mission. Within the classroom model, struggling students are supported by daily small group instruction where students can deeply engage with their teacher, Independent Digital Lessons where students learn at their own pace, and weekly Flex Days where students can work on specific content they need support with.
We recommend that when using Zearn Math for intervention that students continue to work on grade-level content; below are some are some tips for using Zearn Math for remediation or intervention. 
Choose the appropriate remediation topics for your students.
The Curriculum page is a great resource for identifying content that will support remediating students' skill gaps. For each Mission, we highlight the Foundational Missions - earlier grade content where the concepts are introduced and developed. It is important to use a Foundational Mission to support a struggling student, rather than a unaligned Mission, because the content students learn in each Foundational Mission supports their Core Day learning. Clicking on the Foundational Mission will take you to the page for that specific Mission; for example:
Place value of whole numbers: G2M3
Place value with decimal fractions: G4M6, G5M1, G5M2
Addition/Subtraction of whole numbers: G2M4, G3M5, G4M1
Multiplication/Division of whole numbers: G3M1, G3M4, G4M3
Fractions/Decimals: G3M5, G4M5, G4M6, G5M3, and G5M4
We also offer recommendations on specific sequences for intervention in our Zearn Math Intervention Sequences.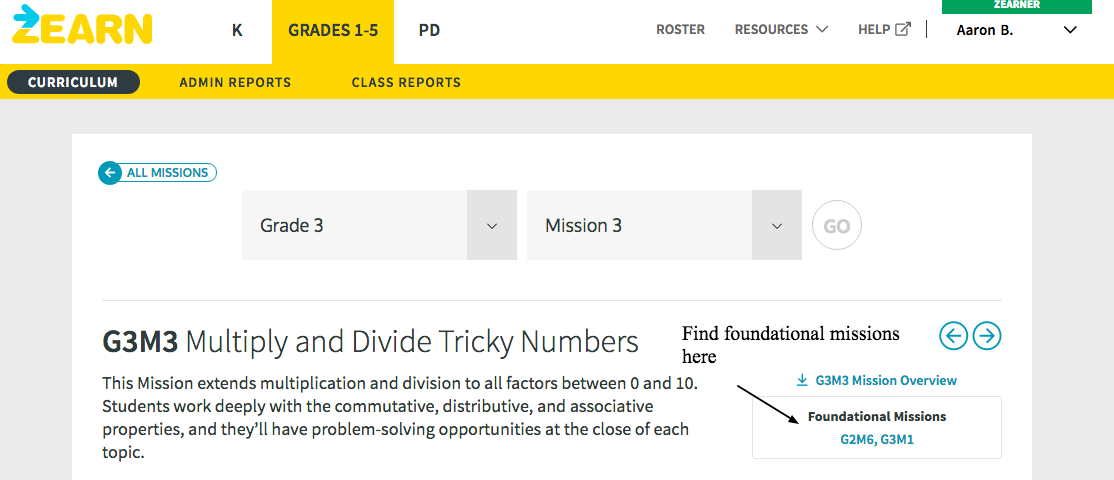 Assign Independent Digital Lessons to your students.
While completing Foundational Missions for remediation through My Stuff, students can continue to work on grade-level content through their Homepage during regular grade-level time. Try using our Weekly Goal Sheet to guide students to the specific Missions they should be completing for remediation. This tracker can be found at the beginning of each Mission in the Student Notes packet as well as Student Workbooks.
Monitor progress.
Continue using Zearn Reports to monitor students' progress, pacing, and areas where they need further support. In the Zearn Pace Report, clicking into a student's name will show which specific lessons he/she completed, so you can see whether the Independent Digital Lessons completed were for intervention or on grade-level.