Language learners of all levels can and should engage with grade-level math content that is scaffolded with the appropriate amount of linguistic support. The Zearn Math approach to teaching and learning fosters the side-by-side development of math understanding and language competence, as students are provided with opportunities to both access mathematics using existing language skills and extend their language development in the context of mathematical sense-making.
Each day with Zearn Math, students learn in a classroom model designed for daily differentiation, experience inclusive environments of social belonging, and receive linguistic support across whole-group, small-group, and individual learning formats. Thoughtfully designed curricular materials and Curriculum Study, Zearn Math's pedagogical content PD, help teachers build expertise that empowers them to support students' language development as they learn math and encounter areas of struggle. While these features of Zearn Math support all students in building a deep understanding of grade-level mathematics, they are particularly critical for meeting the needs of English Learners, who are simultaneously learning math and acquiring language.
For a full list of the features of Zearn Math that support English Learners and foster language development, download our Supporting English Learners overview.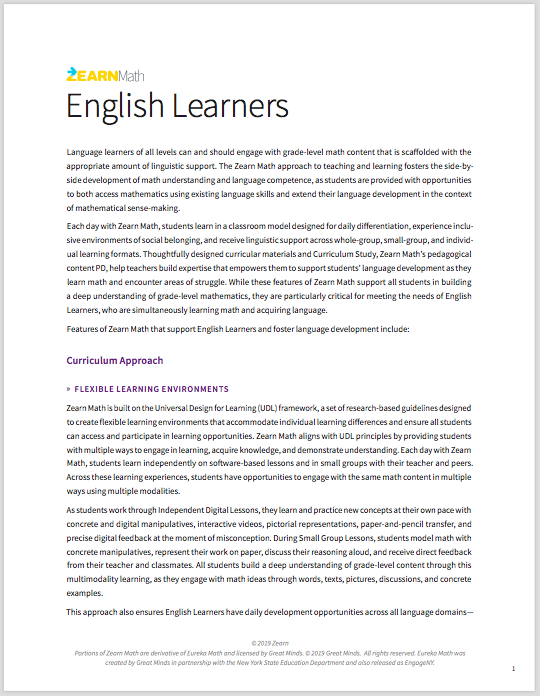 Note: Teachers can download our Small Group Materials from their Mission page and can access the translated modules here.