The Zearn Math classroom model supports daily differentiation, engagement, and deep learning for all students. To account for the different needs of older students (first through fifth grade) compared to younger students (kindergarten), the Zearn curriculum and classroom model differentiates between them.
Classroom Model G1-G5
Zearn Math is built on a rotational model. In the Zearn Math Classroom Model, teachers begin with Whole Group Fluency and Word Problems for 10-15 minutes. Then, students break into two groups to learn content in two ways: Independent Digital Lessons and Small Group Instruction. Students spend ~30 minutes in each rotation. This model gives students opportunity to deeply learn grade-level content through a mix of modalities, with personalized feedback and support.
When building this model into a week, we recommend that teachers structure their week as four Core Days and one Flex Day. On Core Days, teachers use the rotational model outlined above. The Flex Day allows teachers to focus on teaching new on-grade level content during the Core Days, and then use Flex Days to vary their stations and deeply personalize learning for each student.
Our Zearn Recommended Schedule (Grades 1-5) outlines how to incorporate this model into a weekly schedule.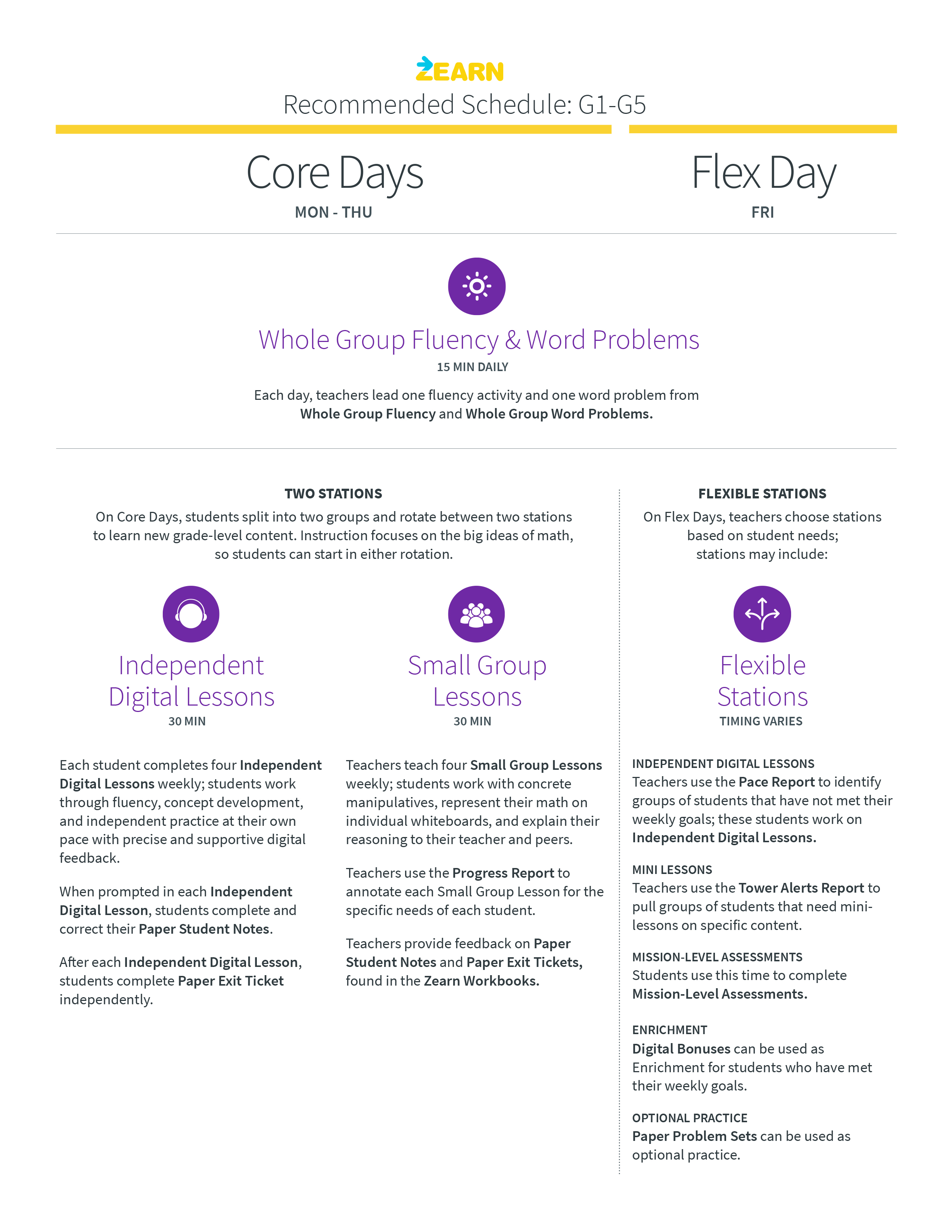 Classroom Model for Kindergarten
We recommend that teachers structure kindergarten math time as of a mix of a daily lesson comprised of Fluency, Application Problems, Concept Development, and Digital Activities. Teachers may choose to deliver the daily lesson in stations or as a whole group. After the daily lesson, students break into stations. One group begins on Digital Activities. Another group works with their teacher on Printed Problem Sets, often as a group. After ten minutes, the two groups switch.
Our Zearn Recommended Schedule (Kindergarten) outlines how to incorporate this model into a weekly schedule.