Zearn strives to be accessible for all students, in line with its mission to ensure all students love learning math. The Zearn Math student experience reflects intentional decisions meant to support a diverse range of learners, and Zearn is working to conform with accessibility standards, including the Web Content Accessibility Guidelines (WCAG 2.0). Zearn views its commitment to accessibility as ongoing and will continue to make updates to ensure curricular materials are usable for all students, including those with disabilities.
For a full list of the accessibility features of the Zearn Math student experience, download our Commitment to Accessibility guide.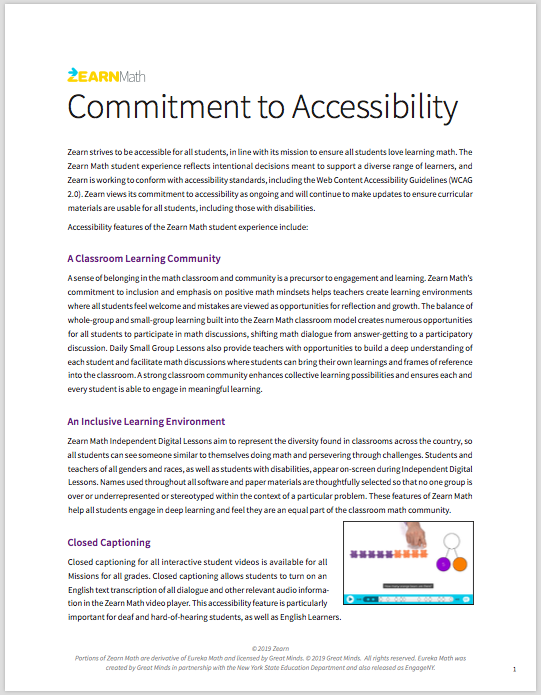 Note: A student's Individualized Education Plan (IEP) should be the first resource teachers use as they look to differentiate instruction for a student with a disability. While Zearn Math's accessibility features aim to ensure that all students can learn core content in two ways—Independent Digital Lessons and Small Group Lessons—Zearn realizes that not all children will learn best through software-based lessons. For example, due to the visual nature of Zearn Math's digital manipulatives, students with severe visual impairments may be better served working with physical manipulatives. Students not able to access software-based materials should participate in Whole Group Fluencies and Word Problems with the full class and Small Group Lessons with their teacher and classmates. Rather than complete the Independent Digital Lesson, students should complete lesson-aligned paper components including Student Notes, Problem Sets, Homework, and Exit Tickets as determined and directed by the teacher.