Zearn Math provides teachers with all of the materials they need to plan and lead instruction that ensures students deeply learn the math content of their grade. These materials are available in both English and Spanish, and include Whole Group Word Problems, Whole Group Fluency, and materials for Collaborative Concept Exploration. Downloadable and printable teacher lesson materials are available on each Mission Page.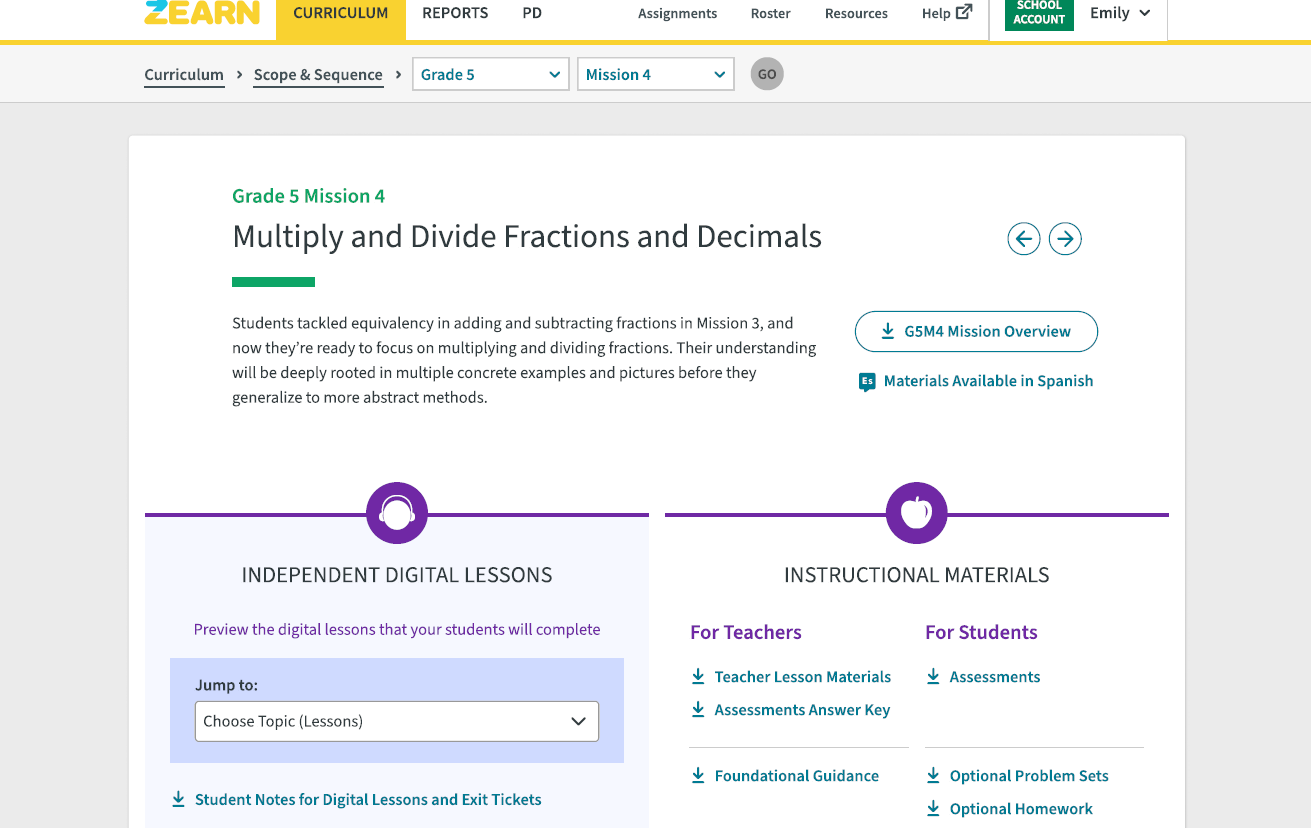 Whole Group Fluency
Whole-Group Fluency materials include oral fluencies and whiteboard fluencies. Each day, teachers choose one fluency to complete as a class as a fun warm-up. This whole-group warm-up engages the community of learners and builds number sense. Each student should have an individual whiteboard so each student has an opportunity to show their pictorial and abstract representations. Fluency activities are opening activities with two instructional purposes – one is fun practice of previously learned ideas to develop procedural fluency and retain content and the other is a warm-up for upcoming content.
Whole Group Word Problems
Whole Group Word Problems include word problems connected to the Mission that can be solved using a variety of approaches. Each day, teachers choose one word problem to complete as a class. While teaching the word problem, teachers can help students visualize what's happening, encourage multiple representations, and have students talk about their strategies.
Collaborative Concept Exploration
Collaborative Concept Exploration is built around a series of scaffolded math problems that move students towards the overall goal of the lesson. Teachers facilitate thoughtful mathematical discussions between students, allowing them to refer to and build on each others' ideas using sample vignettes provided by Zearn that illustrate how each problem should unfold and what rich discourse should look like during the learning. Students will share their own thinking aloud and discuss classmates' problem-solving strategies. Teachers can also assess individual students' understanding as students model their math thinking using concrete manipulatives, share their reasoning aloud, and problem solve. These moments of feedback also provide all students with valuable, in-the-moment support so they can correct their misconceptions and continue learning.
Materials include space to annotate each lesson based on students' needs, required concrete materials, and debrief questions to prompt discussion. There are also recommended optional problems for remediation and enrichment.
Concrete Materials
As students learn new concepts with Zearn Math, they progress from using concrete materials to pictures to abstract symbols, and they are able to move back and forth between each stage to make sure that they understand what they are learning. This gives all learners the chance to construct physical models of abstract math ideas and test and confirm their thinking. You can find a list of recommended concrete materials by grade below. You can also purchase grade-level manipulative kits
here
.
Kindergarten

Teddy Bear Counters

Dot Dice

3D Attribute Solids

Place Value Cards, 12 Basic Student Sets

Place Value Cards, Demonstration Set

5-Group Cards, Demonstration Set

Sponge Dice, Dots

Rocker Scales

100 Bead Demonstration Rekenrek

Unifix Cubes
1st Grade

100 Bead Demonstration Rekenrek

Place Value Cards, 12 Basic Student Sets

Place Value Cards, Demonstration Set

5-Group Cards, Demonstration Set

Two Color Counters

Centimeter Cubes

Dot Dice

Pattern Blocks

Geometric Solids

Unifix Cubes
2nd Grade

100 Bead Demonstration Rekenrek

Two Color Counters

Classroom Money Kit

Centimeter Cubes

Whole Number Place Value Cards

Meter/Yardsticks

12-Hour Student Clock

Color Tiles, Plastic

Unifix Cubes

Place Value Disks

Wood Ruler, Inch and Metric
3rd Grade

Eye Droppers

Whole Number Place Value Cards

Digital Scale with Bowl

Demonstration Clock

Metric Weight Set

Centimeter Cubes

Platform Scale

Place Value Disks

Pattern Blocks

Timers
4th Grade

Customary Weight Set

Whole Number Place Value Cards

Decimal Place Value Cards

Graduated Cylinder 1000-ml

360 Circle Protractors

Gallon Measurement Set

Place Value Disks

Decimal Disks

4" Protractors

Platform Scale
5th Grade

Two Color Counters

Whole Number Place Value Cards

Decimal Place Value Cards

Centimeter Cubes

Tape Measures

Graduated Cylinders 100 ml

Place Value Disks

Decimal Disks

Patty Paper