With Zearn Math, students learn new concepts in two ways: Independent Digital Lessons and Collaborative Concept Exploration. When designing our curriculum and testing it with thousands of teachers and students around the country, we learned that some lessons are better suited for Collaborative Concept Exploration in small groups than they are for Independent Digital Lessons.
This could be for a number of reasons: the lesson was predominantly a review of concepts covered in previous Digital Lessons, the lesson introduced above-grade-level concepts that would be better taught in a small group, or the math concept was more easily understood through the use of hands-on manipulatives during Concept Exploration.
Note
: In cases where the omitted Digital Lesson is a review of earlier concepts, teachers may use the optional Collaborative Concept Exploration lesson as intervention for students who need a review. In cases where the omitted Digital Lesson is above grade-level, teachers may use the optional lesson as enrichment for students who have
few alerts
and show strong mastery on
paper Exit Tickets
.
When students are moved past an omitted Digital Lesson, a card will appear in their Student Feed to let them know that they are skipping a lesson and moving on to the next lesson in the Digital Sequence.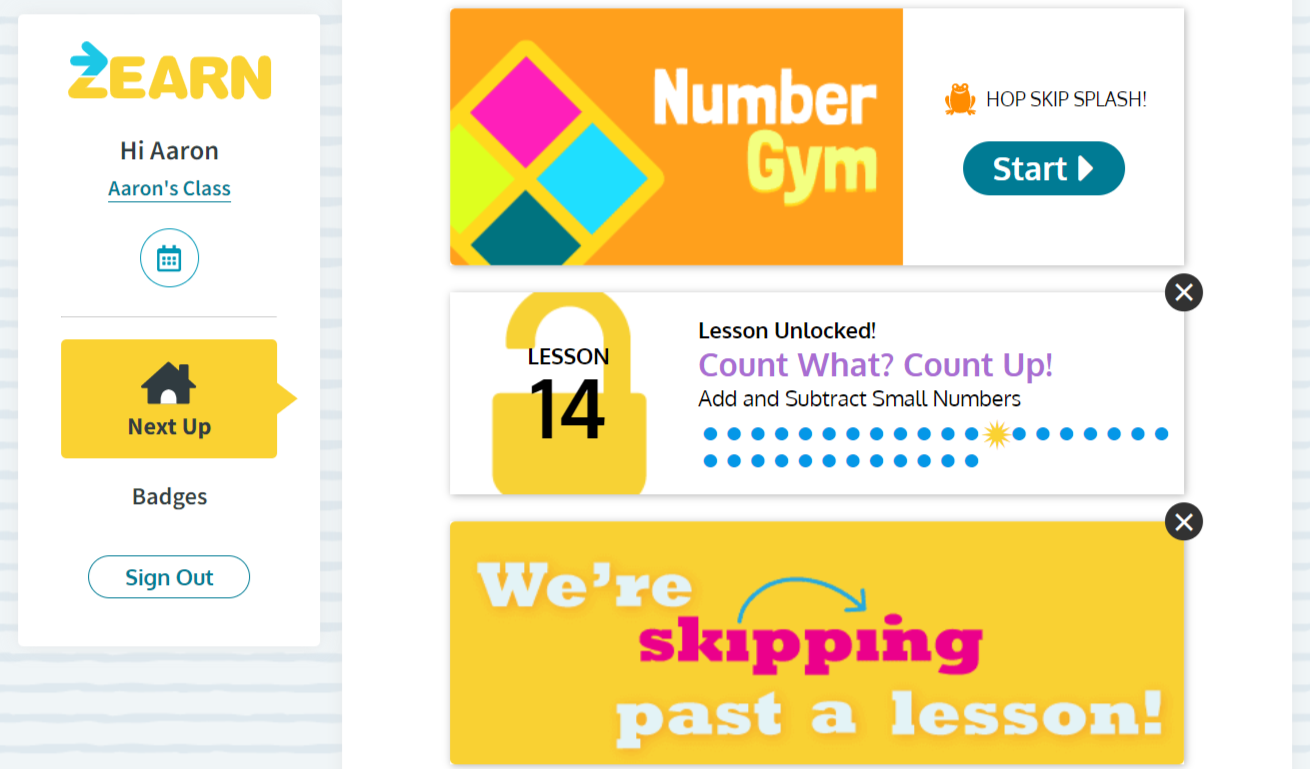 The following Independent Lessons have been omitted from the Digital Sequence. Mission Overviews outline all omitted Digital Lessons and optional lessons for Collaborative Content Exploration within a grade:
Grade 1
Mission 1, Lessons: 13, 18, 23, 24, 26, 28, 35
Mission 2, Lessons: 5, 9, 11, 19, 21, 24
Mission 3, Lessons: 3, 8, 12
Mission 4, Lessons: 7, 9, 12, 14, 18, 22
Mission 6, Lessons: 3, 6-8, 10, 17, 22-24, 28-30
Grade 2
Mission 3, Lessons: 18, 21
Mission 4, Lessons: 29, 30
Mission 6, Lessons: 3, 8, 11, 16
Mission 7, Lessons: 3, 8, 11, 16, 18, 22, 26
Mission 8, Lessons: 4, 6, 9, 14
Grade 3
Mission 5, Lesson: 30
Mission 7, Lessons: 3, 9, 11, 16, 20-21, 24-27, 30-34
Grade 4
Mission 1, Lesson: 17
Mission 3, Lessons: 10, 21, 33, 38
Mission 4, Lessons: 11, 16
Mission 5, Lessons: 34, 38, 41
Mission 6, Lesson: 11
Mission 7, Lessons: 8, 9, 15-18
Grade 5
Mission 4, Lesson: 28
Mission 5, Lessons: 8, 9
Mission 6, Lessons: 4, 11-13, 16, 17, 25, 31, 33, 34
Grade 6
Mission 2, Lessons: 17
Mission 3, Lessons: 2, 10, 17
Mission 4, Lessons: 17
Mission 5, Lessons: 15
Mission 6, Lessons: 11, 18
Mission 8. Lessons: 18
Mission 9, Lessons: 1-6
Grade 7
Mission 1, Lessons: 6, 8, 11, 13
Mission 2, Lessons: 15
Mission 3, Lessons: 5, 11
Mission 4, Lessons: 15, 16
Mission 5, Lessons: 10, 12, 17
Mission 7, Lessons: 9, 10, 17
Mission 8. Lessons: 17, 19, 20
Mission 9, Lessons: 1-13
Grade 8
Mission 1, Lessons: 10, 13, 17
Mission 2, Lessons: 13
Mission 3, Lessons: 14
Mission 4, Lessons: 1, 16
Mission 5, Lessons: 6, 12, 19, 22
Mission 7, Lessons: 16
Mission 9, Lessons: 1, 2