Once you've created an Individual Account, you can follow the steps below to easily add a class.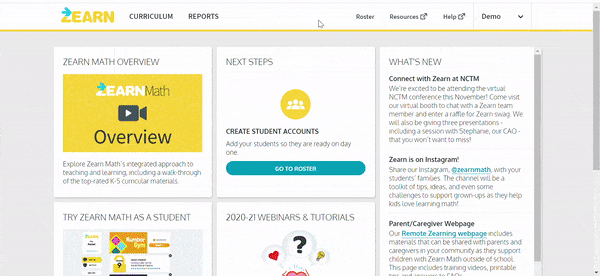 Click Roster at the top of your Zearn homepage
Click Add Class on the left-hand side of the page
Follow the on-screen instructions
Individual Accounts are designed for single classrooms and are limited to 1 classroom with 1 teacher and up to 35 students. Students in an Individual Account can span multiple grades.

Adding a second classroom is a feature only available through our School Accounts. Teachers whose school purchases a School Account have access to additional features that support instruction, like our Mission-level assessments, classroom sharing for co-teachers, and the option to set students to specific lessons. School Accounts also offer roster setup and management as well as school-wide reports to monitor student learning.
For the 20-21 school year, Zearn Math School Accounts cost $2,500 per school site for all of the students, teachers, and administrators within one school. To learn more about Zearn Math School Accounts, contact us.
Now that your class is set up, it's time to add your students.