Now that you've created your class, you can start adding your students!
Note:
Our free Individual Accounts are designed for single classrooms and are limited to 1 classroom with 1 teacher and up to 35 students. Teachers whose school has purchased a
Zearn Math School Account
have no limit on classroom size or the number of classrooms they can add.
Students who already have an existing Zearn account can join your class with your Class Code. To add students new to Zearn to your class: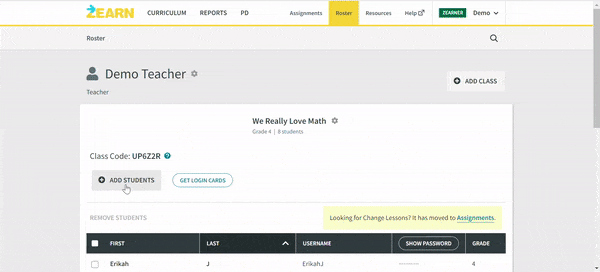 Navigate to Roster at the top of your Zearn account.
Choose the desired class from the Switch Class dropdown menu.
Click Add Students.
Type or paste your student's name into the box under "New Students" and click Next.
Edit student passwords and usernames as needed and click Next.
Choose a Grade, Mission, and Topic for your students and click Finish.
Follow the steps on the "Congratulations" page to get your students started!
Next, let's set these students to a Mission, so they can get Zearning!
Note
: If you are part of a
Zearn Math School Account
that accesses Zearn through Clever or Classlink, you will need to reach out to your Clever or Classlink administrator to add students to your classroom.