Zearn's Summer Intensive Series is designed to help rising 1st through 9th graders develop the essential knowledge that will accelerate their access to grade-level learning in 2022-23. Each grade-level series includes 30-minute digital lessons that kids complete independently, along with resources for teachers and tutors to use alongside each lesson. All lessons can be used flexibly in any 4 to 6-week summer program and can be accessed 24/7 from school, home, or anywhere in between.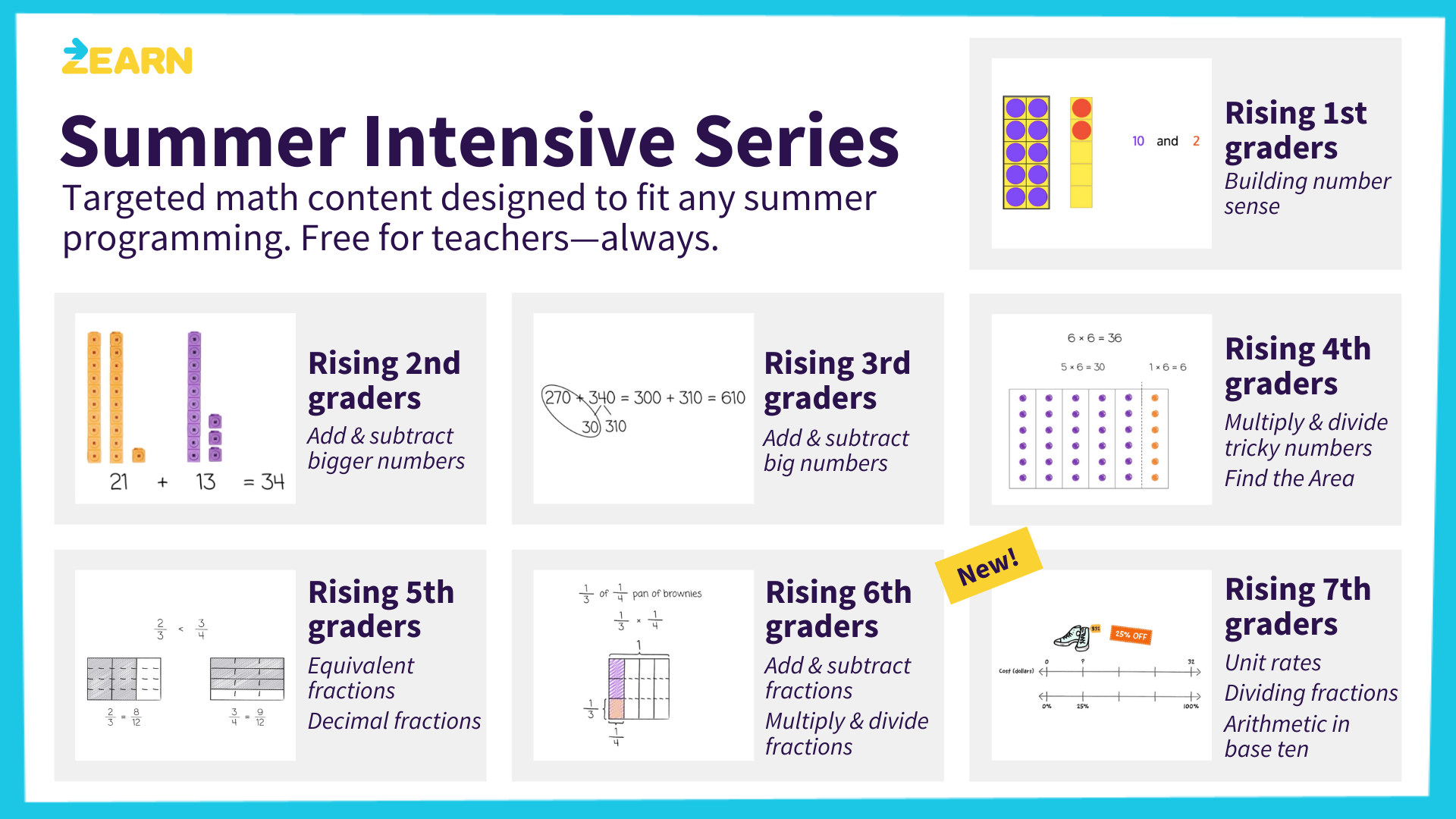 Summer Intensive Series can be used as part of a summer school program, a tutoring program, or outside of school with a parent or caregiver. Parents and caregivers can access these materials by signing up for a no-cost Individual Account and following the instructions in our Parent/Caregiver Packs—offered in English and Spanish—to get started. Administrators and teachers can share these packs with parents/caregivers directly.

Below are answers to common questions about our Summer Intensive Series:
Q: Do I have to pay extra for access to the series?
A: Our Summer Intensive Series is free for individual teachers. Schools and districts can sign up for a paid account to use it with additional features, too.
Q: How do I assign the Summer Series?
A: The Summer Series will not appear as a specific course to assign to students. To start the Series, teachers should set their students to the targeted content for their Grade by changing their assignment to the recommended lessons. These grade-level sequences highlight the most critical content from the focus standards of each grade to catch children up and build a strong foundation for the next academic year.
Q: What instructional content is covered in each digital lesson?
A: Digital lessons include fluency, concept development, and independent practice. Each lesson takes about 30 minutes to complete. Kids work through each component at their own pace. After completing one lesson, they automatically go on to the next. Zearn Math's digital lessons received a top-rating from EdReports.org and are aligned to state standards.
Q: How effective are digital lessons?
A: Studies show that completing three Zearn Math lessons weekly alongside daily instruction leads to learning gains equivalent to 140 additional instructional days a year. Our materials qualify for newly released Federal ESSER funding.
Q: Can I use Zearn Math as part of summer school/tutoring?
A: Summer Intensive Series can be used for summer school, tutoring programs, or targeted interventions. We also offer materials that tutors or teachers can use to facilitate rich math discussions around the core ideas of each Intensive Series.
Q: What steps should teachers take before school ends to assign the sequence?
A: Before summer school programs, current teachers should set students to the first lesson in the first Mission of the grade-level Summer Series. When a student completes all components of one digital lesson, they automatically advance to the next lesson in the Mission sequence—you do not need to advance your student after each lesson completion.
Once they complete the first Mission in the Summer Series, teachers should set them to the beginning of the next Mission in the series. If teachers will not be monitoring student completion over the summer, set students to the first Mission of the series before school ends.
Q: I'm a parent, not a teacher. Can I use the Summer Series with my child at home?
A: Absolutely! As a nonprofit, our instructional materials are free for families and kids. Our Parent/Caregiver supports offer the information you need to create an account for yourself and your child, help your child log in to their account, and orient them to Zearn Math Digital Lessons, so they can begin learning with Zearn Math at home. We also offer resources to help your child succeed with Zearn Math including printable tip sheets and our parent-focused Instagram account, @zearnmath
‍